Introduction:
We are thrilled to announce that Spectra Media Group Ltd has been honored with the prestigious title of Best Digital Marketing Agency in Cheshire at the Martech Innovation in Business Awards. This recognition is a testament to our relentless commitment to excellence, innovation and providing unparalleled digital marketing solutions to our clients.

Quote from Managing Director Sam Spridgeon:
"This award is a tremendous achievement and a testament to the hard work and dedication of our talented team at Spectra Media Group Ltd. We are incredibly proud to be recognized as the Best Digital Marketing Agency, and it further solidifies our position as a leader in the industry. We are committed to driving success for our clients through cutting-edge strategies and innovation."
Winning the Less Common Metals Contract:
We are also excited to share that winning the Best Digital Marketing Agency award played a significant role in securing a prestigious contract with Less Common Metals. This partnership reflects our ability to deliver exceptional results and our clients' trust in our expertise.
At Spectra Media Group Ltd, we strive to form long-lasting relationships with our clients by understanding their unique needs and tailoring our strategies accordingly. The recognition we received through the Martech Innovation in Business Awards has undoubtedly reinforced our credibility and positioned us as a trusted partner for businesses seeking digital marketing excellence.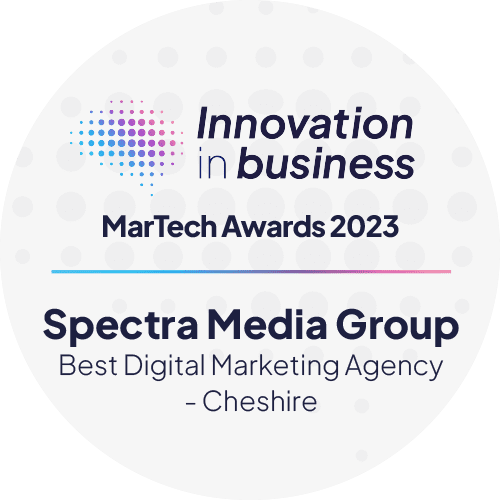 Conclusion:
The Best Digital Marketing Agency award at the Martech Innovation in Business Awards is a remarkable achievement for Spectra Media Group Ltd. It reflects our relentless pursuit of innovation, our commitment to delivering exceptional results, and our dedication to providing top-tier digital marketing solutions.
As we move forward, we remain committed to staying at the forefront of digital marketing trends and technologies, constantly pushing the boundaries to help our clients thrive in the ever-evolving digital landscape. We thank our clients, partners and our incredible team for their unwavering support and dedication that made this prestigious achievement possible.
About Spectra Media Group Ltd:
Spectra Media Group Ltd is a leading digital marketing agency specialising in delivering comprehensive solutions to help businesses succeed in the digital world. With our expertise in web design, search engine optimization, social media marketing, content creation and more, we strive to drive growth, engagement, and brand visibility for our clients across various industries.
For more information about Spectra Media Group Ltd and our award-winning services, visit our website at www.spectra.media/what-spectra-do